Peterson
On Sunday, when we were playing at the church with all the kids, I met a sweet boy with a beautiful smile named Peterson. He told me he was 11 years old. He spoke a little English, I spoke a little Creole, and we taught each other a few words. He called me his sister, his mama. I told him I was his sister in "Jezi" and he nodded and smiled. He told me he knew Jesus. We hung out for a while until it was time to walk the kids back to the boys home. As we walked back, he didn't go with the others. With our communication barrier, I found out that he wasn't one of the MDL kids, he lived in a nearby tent city. I tried to ask who he lived with, but I never found out. One of our team members had brought candy for the kids in the orphanage. We are not supposed to give anything to any of the street kids, and Peterson hadn't received any candy. I asked our pastor if I could give him some and he gave me a couple of pieces and said I could give them to him only right when we got to the gate of the guesthouse and only if no one else was around. As we walked through the streets, Peterson eventually just walked away, before I had a chance to give him his candy. As I held that candy in my hand, I cried the whole way back to the guesthouse. I didn't know if I'd ever see him again, I didn't know what kind of a life he was going back to, and I was very very sad.
I did some investigating (and crying) at the guest house with some of the nurses that were there. They told me that they think his parents died in the earthquake (more crying), but that he has clean clothes and looks like he is taken care of by someone. They also said that I would see him again, he hangs out around the houses and waits. I asked if he was in the feeding program—he's not (more crying), but he waits outside the gates and when there is enough food they let more kids in to eat.
Well…I did see him again. Actually almost every day we were there, he was waiting for us outside the guest house and he would walk with us to wherever we were going. He would call out "Sister!" and I would reply "Brother!" and we would walk and talk together. On Monday they had extra food and so he got to come in to eat at the feeding program. I was very glad to see him and gave him hugs and told him so. He wanted me to take a picture of him eating. On Wednesday, I saw him at the feeding program again. This time he got to be one of the helpers. They have older kids and kids who aren't in the program who are trustworthy and good helpers be table leaders. They are responsible to help set up the tables and benches, serve the food to the kids at their table, and keep order at their table. Then they help clean up afterwards, and in return they get to be a part of the feeding program and enjoy a meal. After the program was over for the day I asked him if I could pray for him. He smiled and said yes. So I asked him "What would you like me to pray for?" His answer broke my heart: "I want to go to school." I prayed for him right there. Later as I was praying by myself I asked God to help me find a way to make that happen. As I started asking people about how to do that, it seemed that God opened a door. I talked to the principal of the school about it, and he agreed to evaluate Peterson and see what level he was at. Then he could tutor him for the summer so that when school starts again in the fall he'll be ready.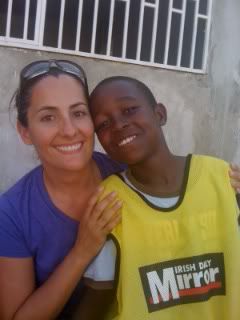 Me and Peterson, the day he was able to be a table leader at the Feeding Program
On Friday, the principal brought me Peterson's evaluation—he tested at a third grade level, and with tutoring he thought he could be ready for fourth grade in the fall! I was so proud of my little friend! I was saddened too though—testing at a third grade level means that he probably used to go to school. I am guessing that he was in school until the earthquake happened, and hadn't been able to go since then. But it is a good thing too, because there is more room in the higher grades and it is more likely that he'll be able to go to school. I made arrangements with the principal to tutor Peterson and get him supplies(backpack, books, pencils). Sometime this summer we'll talk about a plan for the new school year. If you are interested in helping a Port au Prince neighborhood child go to school, please visit this link:
http://www.childhope.org/help/sponsorship/education.html
UPDATE: Peterson has been admitted to the MDL school! Myself and some friends from church are sponsoring him and paying his tuition. I am so excited about this! In Haiti, school is very important. In a country where there is 80% unemployment, it will surely help him to be able to get a job and support himself later. But it also means that he will be in a safe environment for the 7 hours that he is at school, and it means that he will have at least two meals a day at school. Please join me in praying for Peterson.