One of the things I was looking forward to doing while were at Child Hope, was helping with the Feeding Program. Three days a week the staff and older kids from Child Hope put on a feeding program for the children from the surrounding neighborhood. Over 100 kids come to the program each Monday, Wednesday and Friday. The kids have an hour to play games in a safe environment, sing worship songs in Creole and in English, hear a Bible lesson and enjoy a big meal and clean water. Unfortunately for many of these kids, this is the only meal they eat that day, or maybe until the next day of the feeding program.
100+ kids at the Feeding Program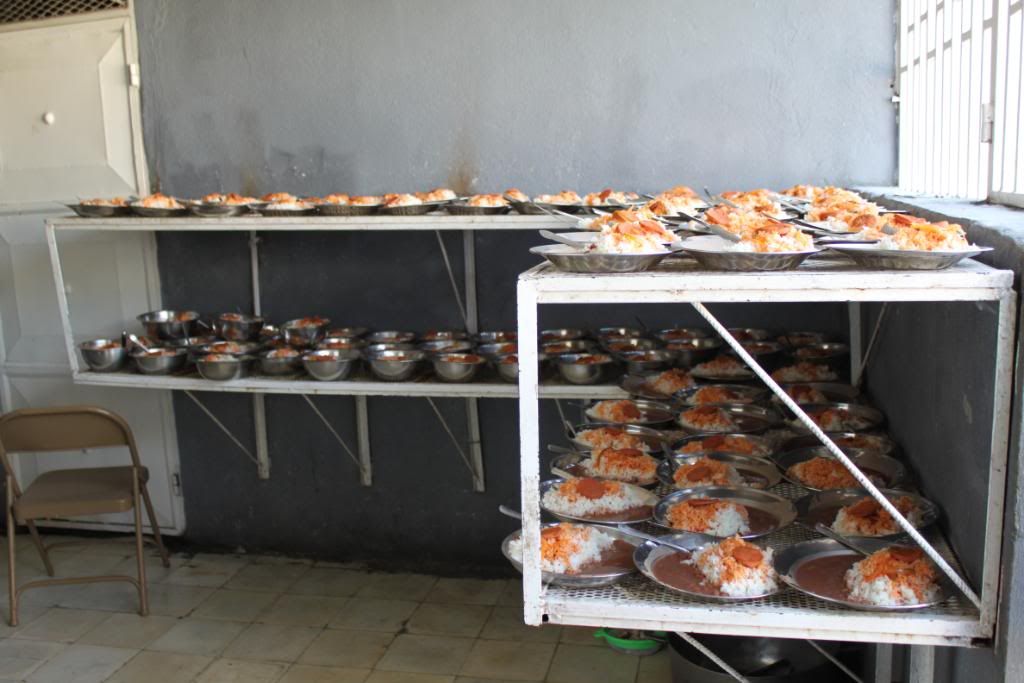 The food is prepared for the kids-this day was rice with beans, bean sauce and a piece of sausage
Every child gets a glass of clean water to drink-something that is hard to come by in Haiti
About 10-12 kids are seated per table
Our team participated all three days, but Monday had the biggest impact on us. Going in, we knew that we were going to be with hungry, maybe even starving children. But seeing them in person—seeing the visible signs of their malnutrition, and holding their frail bodies in our arms—was powerfully heartbreaking. There was one little girl in particular who climbed into a team member's arms and immediately fell asleep, she was so exhausted. She woke up a few times having bad dreams, but otherwise completely missed the games and the songs. When it was time to eat we tried to wake her and had a very difficult time doing so. When we finally got her awake, she was too weak to feed herself. Julie helped feed her and she couldn't even finish half of what was on her plate. This poor little girl was starving. I'm so glad that the Child Hope feeding program is in place—they are actually saving lives. But I also know that this one child represents many others just like her, some that aren't being taken care of in a feeding program.
The kids in the program line up outside and are led in by older helpers
First they play games
The younger kids color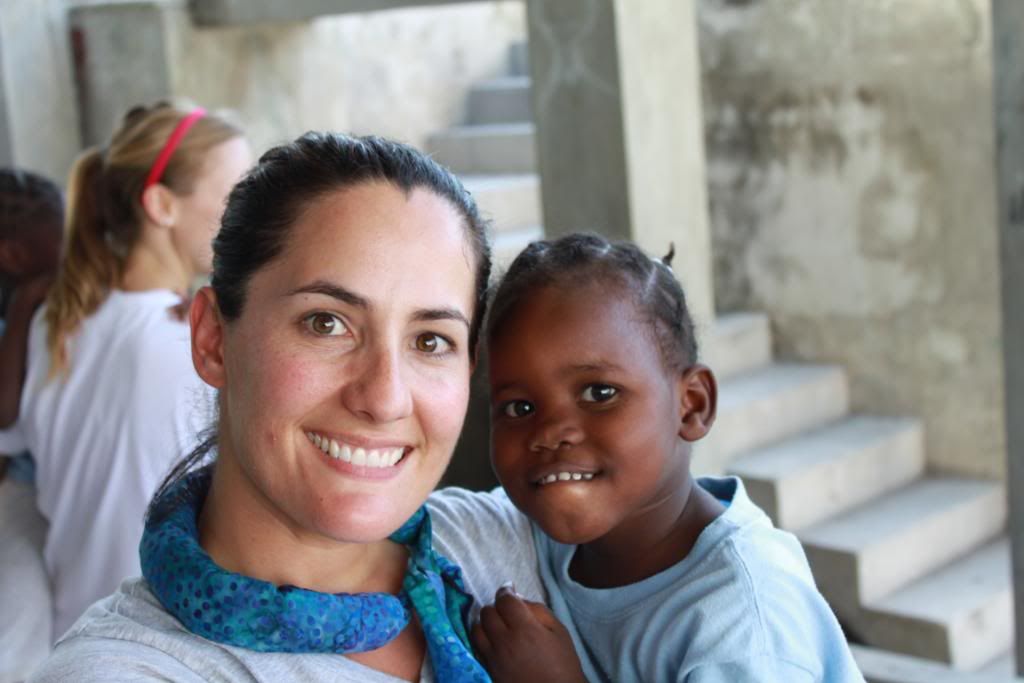 Many of the kids want to be picked up and loved on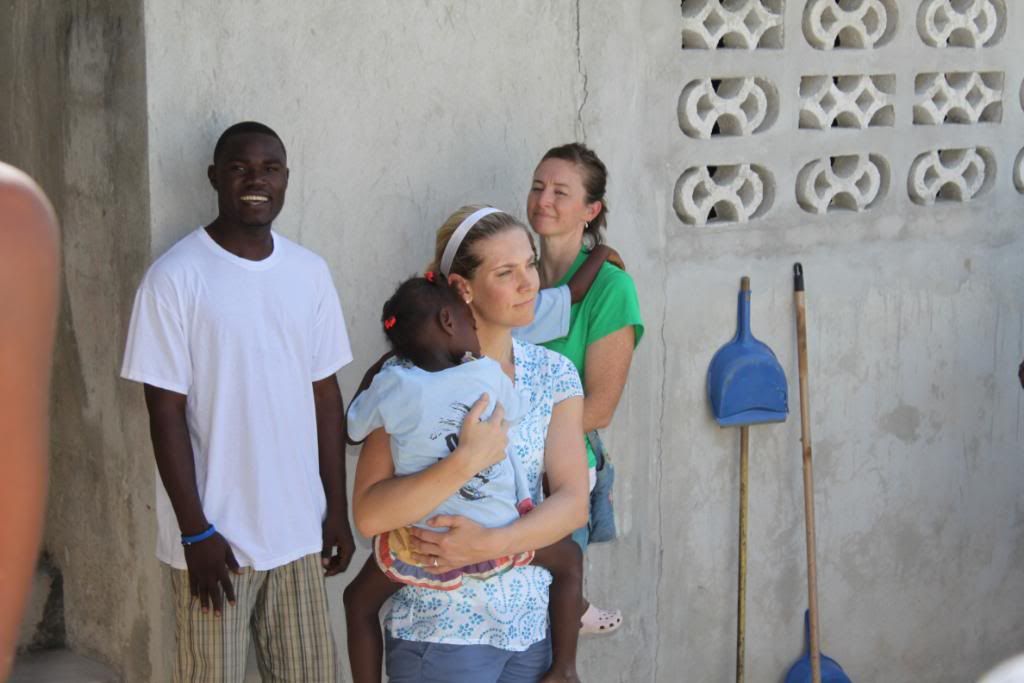 Dafka wanted Julie to pick her up, then she fell asleep in her arms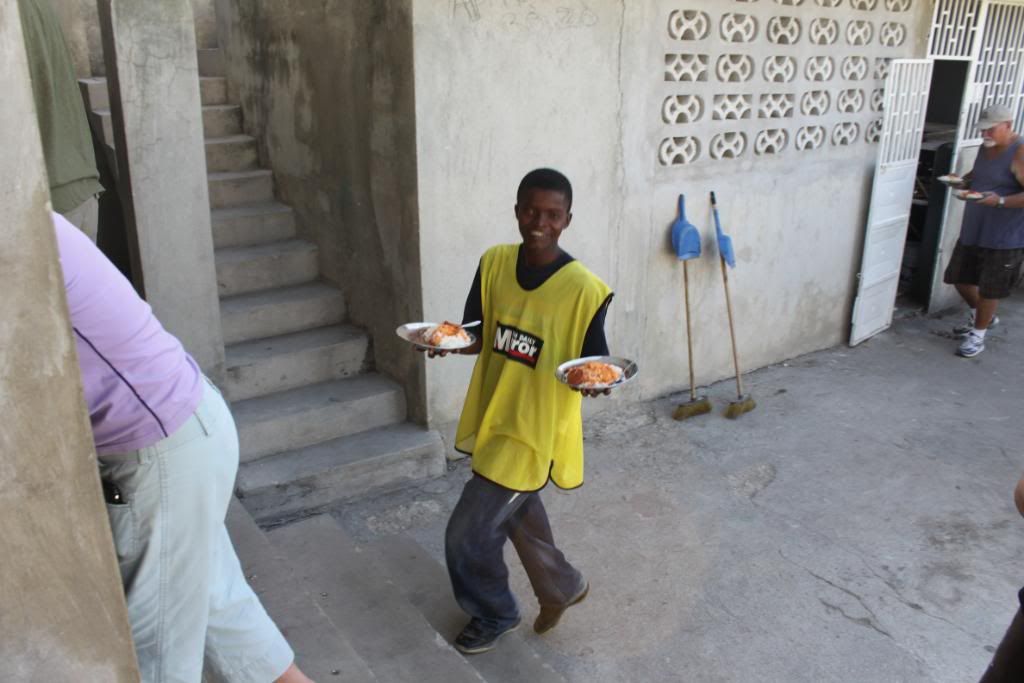 Moise, one of the helpers I got to know
Julie helping to feed Dafka--after I took this picture I had to stop to pray for these children.
Rose playing games with the girls
Our clean-up crew: the dishes get cleaner as they go down the line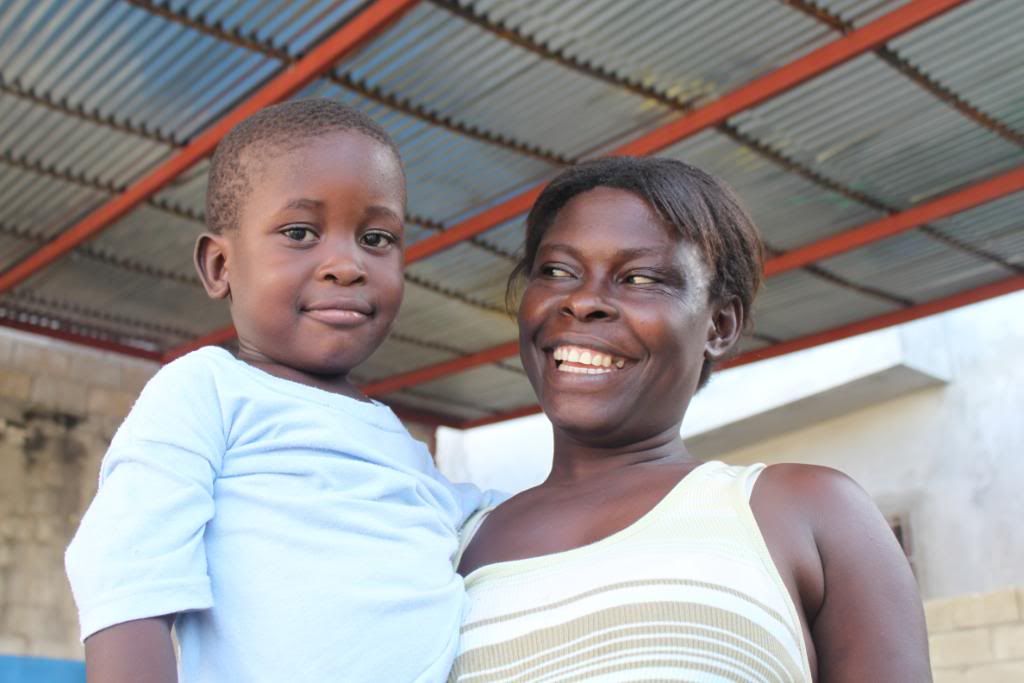 Memos, one of the feeding program cooks, and her son
On Wednesday I had another powerful experience there. I had learned a little bit of Haitian Creole before our trip and sometimes other team members asked me to translate (funny, because I didn't really know that much!). Anyway, there was another little girl who kept saying "dlo, dlo" during playtime. Rose asked me to listen to see what she was saying. She was saying water. She was very thirsty. It wasn't time for food yet, so I asked one of the staff if I could get her some water. She went over to talk to her and asked her if she could wait until it was time for the meal. The little girl just looked at her sweetly, and then said it again. The staff member said she should wait if she could. I know there are reasons why things are done in a certain way, but it was so hard for me not to give this thirsty little girl water. I felt so helpless, all I could do was pray. She got distracted when the singing and lesson started and she was able to wait…but this image was burned into my mind and will stay with me forever. There are so many things that I take for granted in my life. What an incredible reminder that I should be thankful for something as simple as clean, cold drinking water available from the faucet whenever I might want it.
This is the little girl who was thirsty, coloring with Rose
Erick plays games with the kids
Another little one falls asleep on Julie
One of the older girls from the girls home helps to feed a hungry child
Julie and Emily helping Dafka to eat her meal