After all the craziness of the first half of the month, I was really looking forward to our President's Week Vacation. The kids have the week off of school and we rented a cabin in Tahoe with our friends the Scotts. We really wanted the kids to have a chance to get some skiing and snowboarding in. We drove up on Monday and took the kids to Soda Springs. We love it there! It's awesome because there is access to a bunny hill with carpet lift, but also tubing with a lift, a giant snow mountain to climb on and a tubing carousel. That way the kids can take a break and do something different and then come back to the mountain, without ever having to leave. By the end of the day, it was looking like our kids are ready for something a little more challenging. It's a great place to teach your kids though.
Drew snowboarding
Ava ready to ski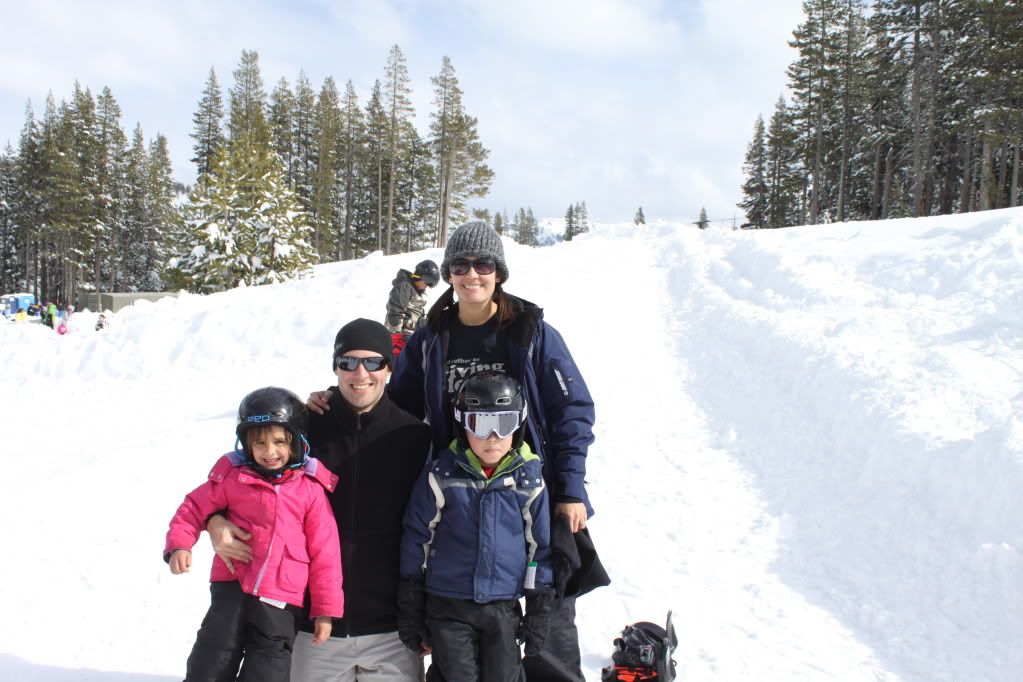 Family Photo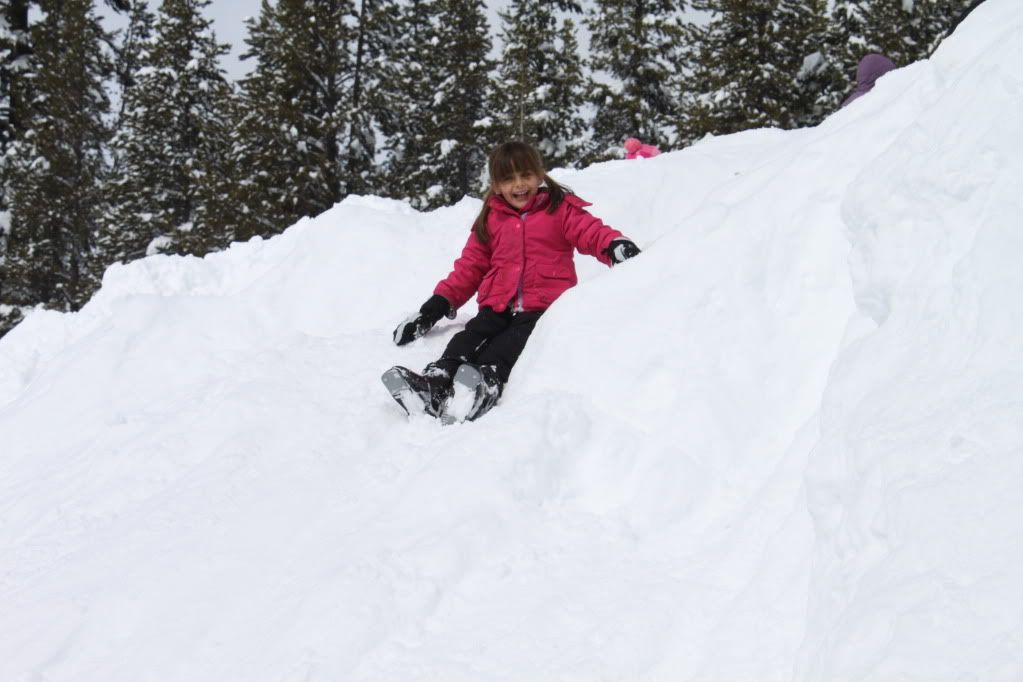 Ava enjoying the mountain of snow
Drew sliding down the snow mountain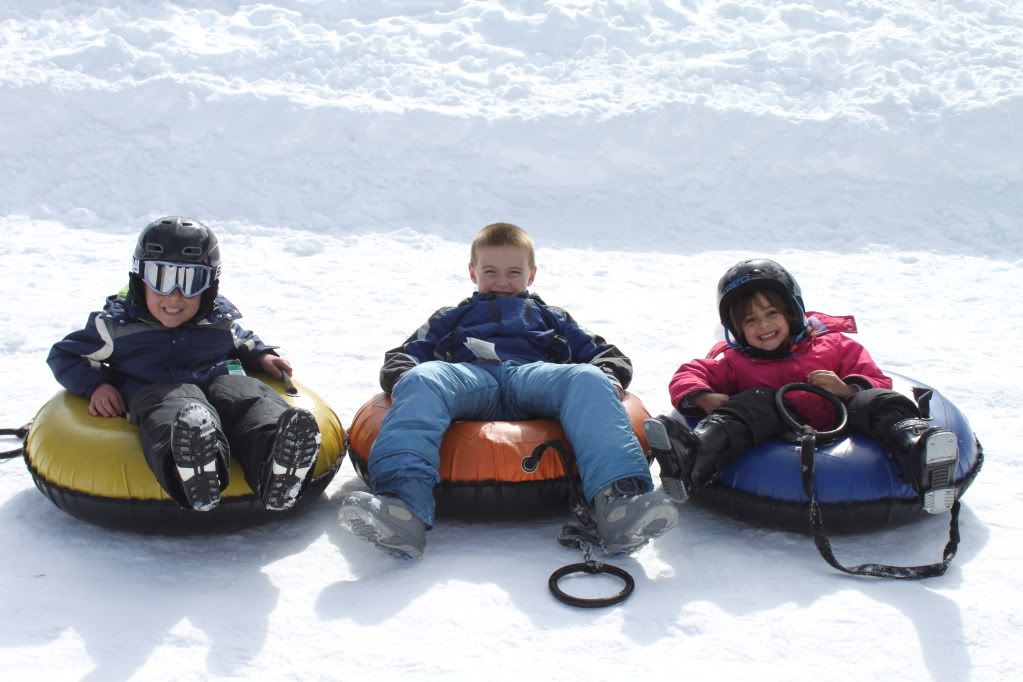 Drew, Eben and Ava ready to tube down the hill
Tuesday, we went to Boreal and put the kids in lessons so Dan and I could have a chance to do some snowboarding together. They both did awesome and we had a great time!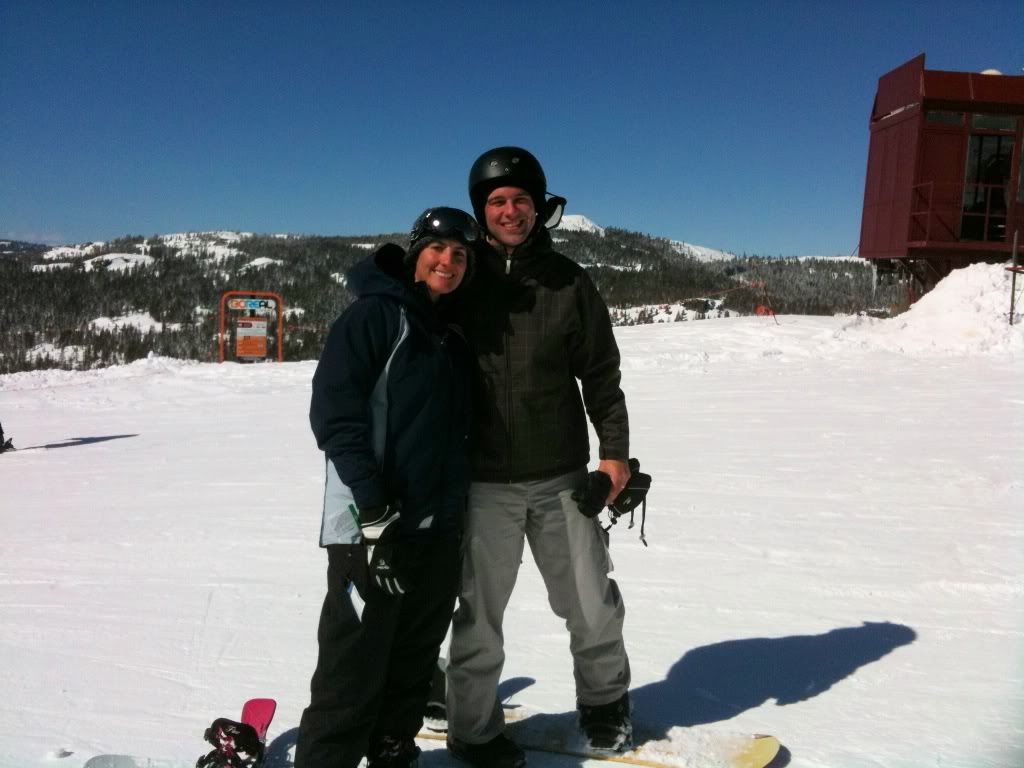 Snowboarding together-so fun!
Drew after his lesson-they taught him to jump!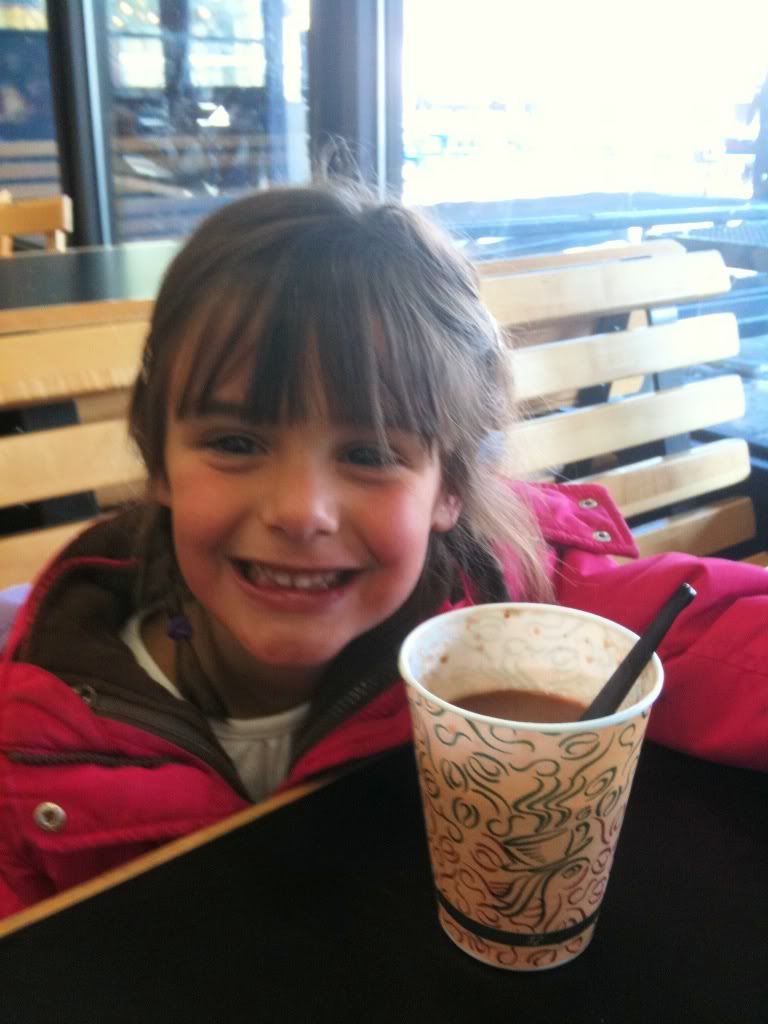 Ava wanted some hot chocolate to warm up after her lesson
Wednesday we went to Donner. It was cheap and had a great learning hill for the kids. We put them each in one more one-hour lesson. I was really impressed by how much they were learning. By the end of that day I took Ava down a green run with me and she rocked it! Drew wasn't quite ready for a green run, but he could navigate the beginner hill without any help. Yay!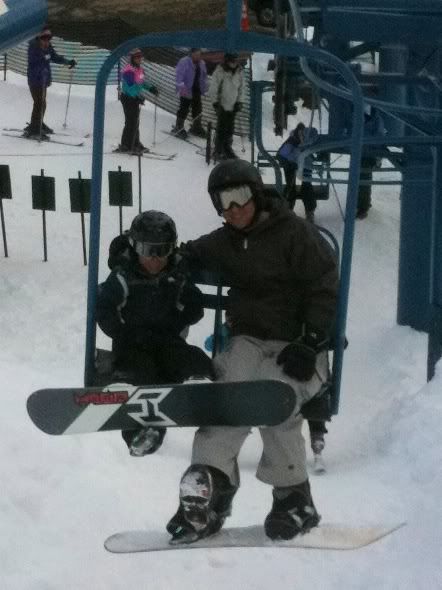 Dan and Drew riding the lift together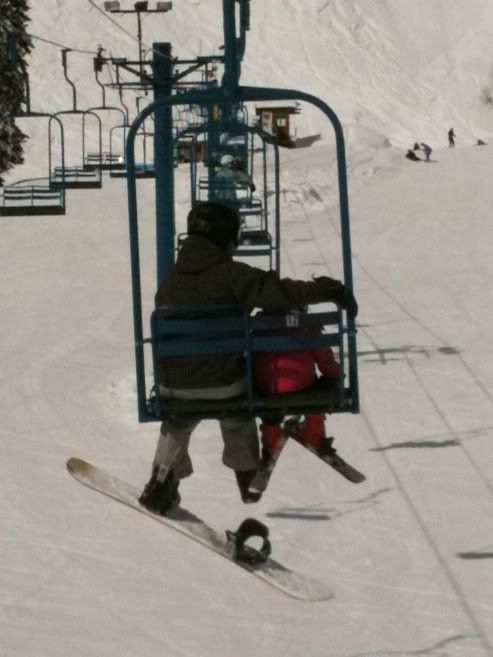 Ava riding the lift with her Daddy

That day also happened to be my birthday. Jen's mom came with us to the cabin and she graciously watched all four kids while we went out for a birthday dinner at a Thai restaurant. It was a great birthday!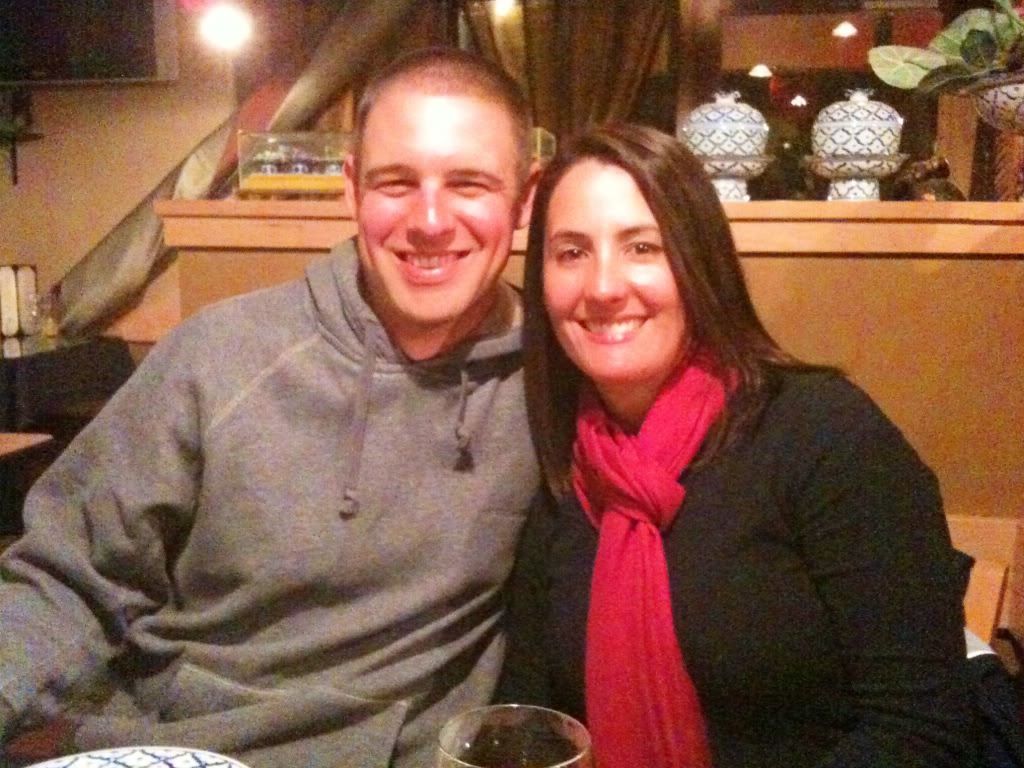 I'm 33 today and still celebrating!
Our friends, Jen and Pete
Thursday it started snowing and a large storm was coming in. The Scotts headed home to avoid the big storm. We stayed at the cabin and played in the snow, went in the spa and played board games. It snowed more than 2 feet overnight, and by Friday morning, we were snowed in! But we had to leave because apparently the next renter was to arrive at the cabin that day (I seriously doubt they could have made it up). We shoveled snow for 2 hours just to get out of the driveway! 80 was closed so we had to find somewhere to go. Luckily, our friends happened to be staying nearby and allowed us to crash with them at their gorgeous condo! It was the perfect place to be rescued! The kids got to sled, the adults played cards, and we all had a great dinner and smores at the clubhouse. Thank you Thompsons!
The kids having fun in the snow storm
Doing a little sledding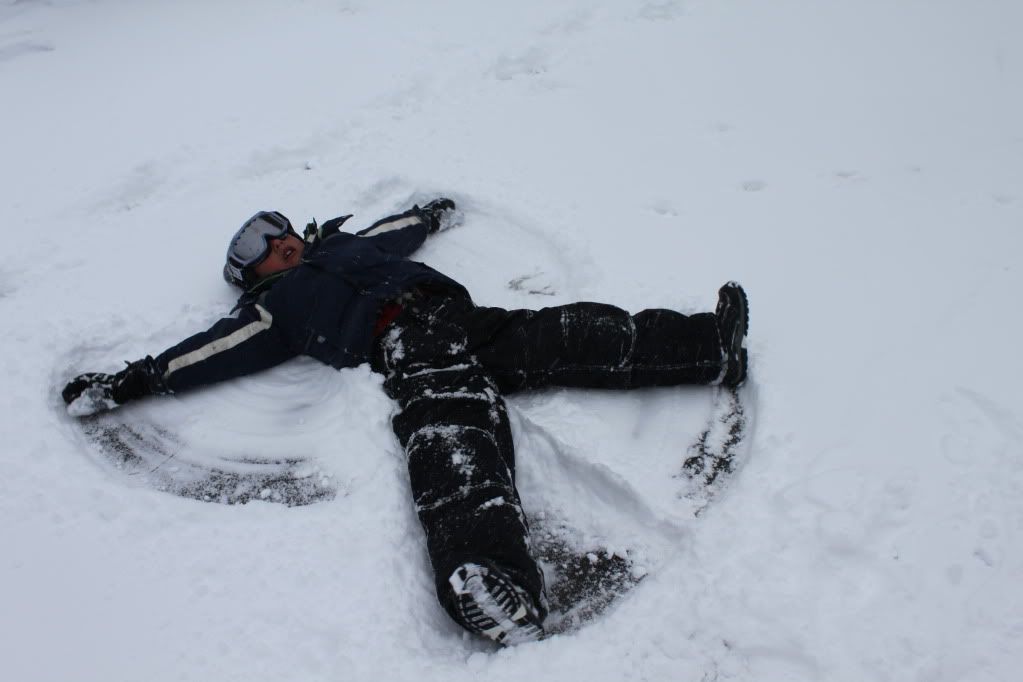 Drew makes a snow angel
Ava makes a snow angel
Warming up in the hot tub
Our snowed in cabin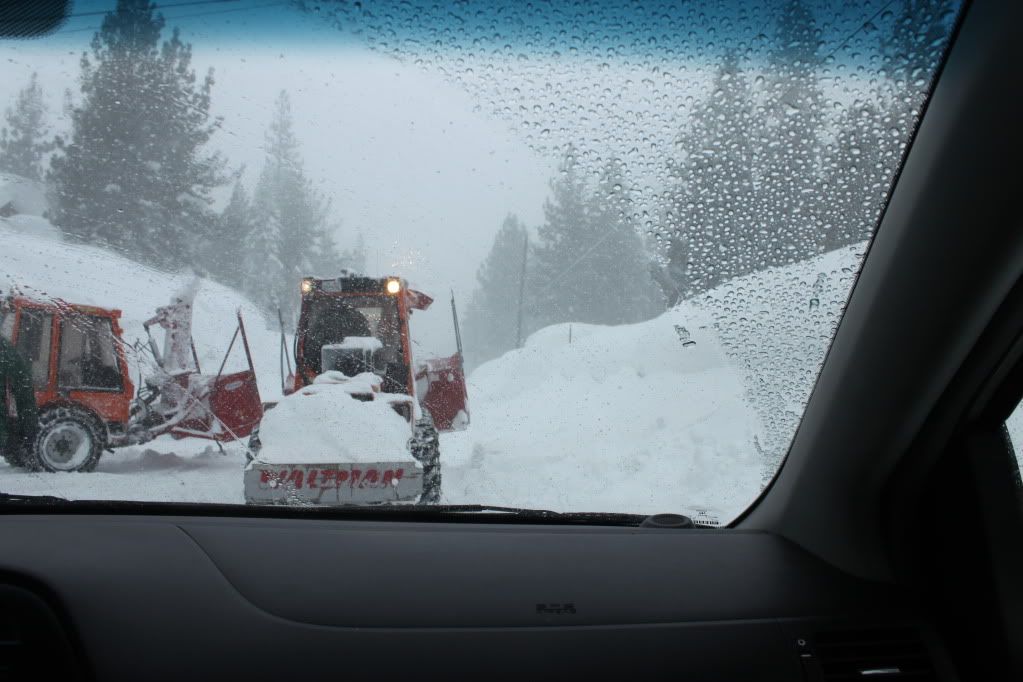 We were lucky to find this snowmobile to follow
The cabin that rescued us!
Drew and Ava roasting marshmallows at the clubhouse
The next day, Saturday, Dan had planned to go snowboarding with some guys from church. Since we were still up there, I took the kids back to Donner while the guys went to Boreal. It was too beautiful of a day with fresh powder to go home! Since I was alone with the kids, Ava had to ride up the chair lift by herself, and I helped Drew (it's harder to get off the lift on a snowboard). They were awesome! I love the ages that they are at right now. It's so much easier and more fun to do things with them now. They are little mini people!
Drew and Ava ready for another fun day in the snow
My tiny girl riding the lift all by herself
This week was the perfect way to recover from a busy few months!